Chiropractic Care
When Dr. Chris attended Parker University, he was fortunate to learn a myriad of different chiropractic techniques. He was drawn in by the Gonstead system because it made biomechanical sense and was reproducible. An array of criteria was used to understand how to take care of the patient, making it a precise approach.
Some people choose to include regular Chiropractic adjustments as part of a healthy, wellness lifestyle to maintain optimal performance and prevent future problems.
Some people need our help to alleviate a problem or injury. Common issues that we can help can include: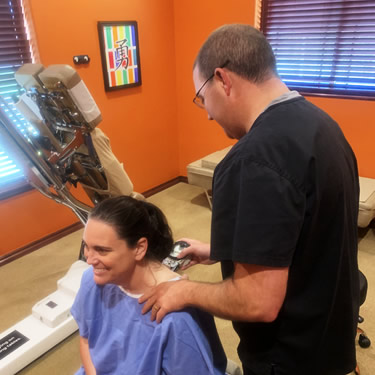 Back pain
Herniated/bulging spinal discs
Sciatica
Digestive problems (including colic in infants)
Fatigue
Headaches (including Migraines)
Immune challenges
Lack of mobility
Neck pain
Numbness and tingling in the arms and legs
Poor sleep
Pain in the extremities (arms and legs)
Patients with previous spine surgery (including hardware) can be safely adjusted
Nearly 100 Years of Success
Dr. Clarence Gonstead developed the Gonstead system in 1923. His clinic, one of the largest in the history of chiropractic, is still in operation today. The results patients get from the Gonstead system are nearly unparalleled. This system has a proven track record for safety, effectiveness and results. More information about the Gonstead system can be found at Gonstead Clinical Studies Society
Your care starts with a comprehensive evaluation. We take structural X-rays to analyze your spine. During your examination, we perform multiple tests to determine the precise location of your problem.
Starting Your Care
Our gentle adjustments are specific and address just one area of your spine at a time. Since we do a comprehensive evaluation, we know what your spine needs. It doesn't require force to make these changes. Our patients tell us our adjustments are easily tolerated. You and Dr. Chris will go over what he'll do before starting, going through it step by step.
We carry pillows and supplements in our office to serve as a complement to your care with us. Ready to get started? Contact Waddell Family Chiropractic today!
CONTACT US »
---

Chiropractic Care Shawnee | (405) 878-1340