Meet Dr. Chris Waddell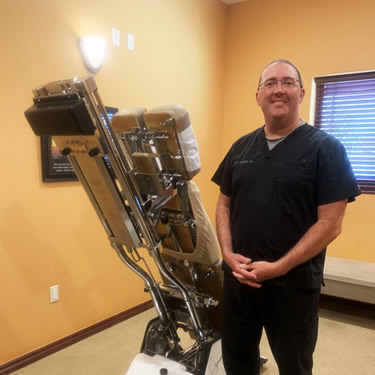 During Dr. Chris's senior year of college, he had a serious car crash. It was while he was driving home from school; a semi-truck rear-ended him on the I-40. Though he walked away from the accident, he soon experienced complications that the medical doctors didn't have answers for.
Finding a Better Solution
A visit to a family friend who was a chiropractor changed everything. "I healed quickly from my accident injuries but soon noticed I was helped with other problems I'd never mentioned, like my headaches." No more did Dr. Chris have to take an over-the-counter headache medicine regularly (which he thought was normal!). The low back pain he'd had since childhood that the doctors said he would grow out of? That was gone, too.
After completing his undergraduate education, Dr. Chris started working in the family business. It wasn't long, however, before his calling to serve people in a new way came about. He moved to Dallas and enrolled at Parker University to complete his Doctor of Chiropractic.
Discovering the Gonstead System
It was while Dr. Chris attended Parker that he learned about the Gonstead system of chiropractic. He was president of the Gonstead Club while in school. He earned his Diplomate from the Gonstead Clinical Studies Society, which certifies his proficiency in the Gonstead system of Chiropractic, in 2022. He currently serves on the board of directors of the Gonstead Clinical Studies Society.
Until 2019, Dr. Chris was the president of the Oklahoma Board of Chiropractic Examiners. As the person in charge of public protection, his role assisted him in adhering to a high standard of care. He is also a member of the Gonstead Clinical Studies Society and the Oklahoma Chiropractors' Association.
EXPLORE CHIROPRACTIC »
Life Outside of the Office
Dr. Chris is married to his wonderful wife, Terrie. They have a daughter, Sidney and a son, Luke. Their whole family stays healthy thanks to regular chiropractic care. You may have seen Dr. Chris in his role on various boards or volunteering around our community, thanks to his service-oriented mindset.
In his spare time, he loves to do yard work, complete projects around the house or go cycling with local groups in Shawnee. Entertaining others, cooking for them and seeing them happy are some of his passions in life.
Would you like to learn more about Dr. Chris and what he does? Contact Waddell Family Chiropractic today to schedule a complimentary consultation!
---
Chiropractor Shawnee | (405) 878-1340